Blaine Naval Ammuniton Depot / Naval Ammunition Depot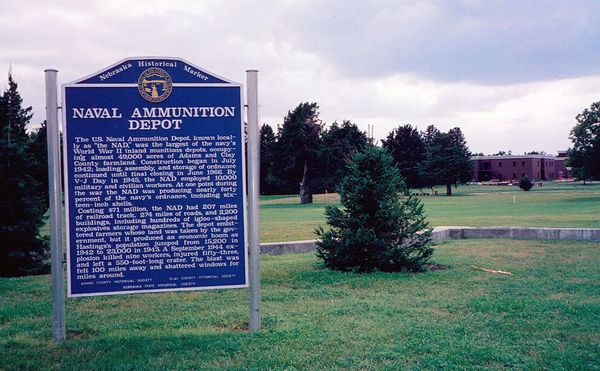 U.S Navy 1942 - 1966
U.S. Air Force 1962 - 1968
Once responsible for producing 40% of America's naval ammunition, Naval Ammunition Depot (NAD) experienced a number of roles throughout the Cold War including supporting a radar installation and a radar-bomb scoring site for the US Air Force.
World War II
Considering the massive detonations that destroyed part of the Lake Denmark Ammunition Depot in New Jersey in 1926, the U.S. Navy began planning for strategic locations for it's future ammunition depots in the future. Hastings, Nebraska, out of range of the air power of hostile nations, would play a key role during World War II.
With construction beginning a little later than other munitions plants in Nebraska, what would become the massive Blaine Naval Ammunition Depot (AKA Naval Ammunition Depot) began taking shape in July 1942. 49,000 acres of land was acquired and by early 1943, 2000 buildings, bunkers and other structures had been built. Cost of construction was $71 million (Over a billion in 2020 dollars).
Operations
Creating a giant center of employment, the city of Hastings was strained to produce enough housing for workers. In 1942, the city's population was 15,200. It had climbed to 23,000 in 1943. The production lines would produce a large assortment of munitions including 40mm shells, 16-inch shells, rockets, bombs, depth charges, mines and torpedoes.
On September 15, 1944, a massive explosion occurring during a train loading operation killed, 9 workers and injured 53. The explosion was large enough to collapse a roof in Harvard, Nebraska injuring 10 children and be heard in Lincoln over 100 miles away. Three other accidental explosions would occur at NAD during World War II.
In April 1945 after the defeat of Nazi Germany, work shifts at the depot lowered from 60 to 54 hours. Interestingly in August 1945 a workforce of 3,000 employees was retained and a 40 hour work week instituted. In 1949, the workforce numbered 1,189 persons while a Korean War peak would employ 2,946 civilians.
Cold War
After 1954, there was a diminished role at NAD. By 1958, the defense department had realized the strategic location of the depot to serve as a early-warning radar site. In 1961, construction was progressing on what would become Hastings Air Force Station.
In 1965, the two Air Force units (the other being the bomb scoring detachment), had improved the Hastings economy by 1,000,000 in payrolls.
1966
Closure of the grounds was all but guaranteed by December 1958, to conclude no later than June 1966. While Navy operations declined, US Air Force operations progressed into the Vietnam-era. Hastings AFS would deactivate in 1968 and soon much of the land would revert to civilian control. Part of the former Naval Ammunition Depot would be retained by the Defense Department as the Greenlief Training Site for the Army National Guard.
Today
Many of the bunkers sit abandoned, however a number of industries emerged after the depot closed. The Air Force Station was left in private hands while the Greenlief Training Site remains updated for regional National Guard units.