Sioux Ordnance Depot / Sioux Army Depot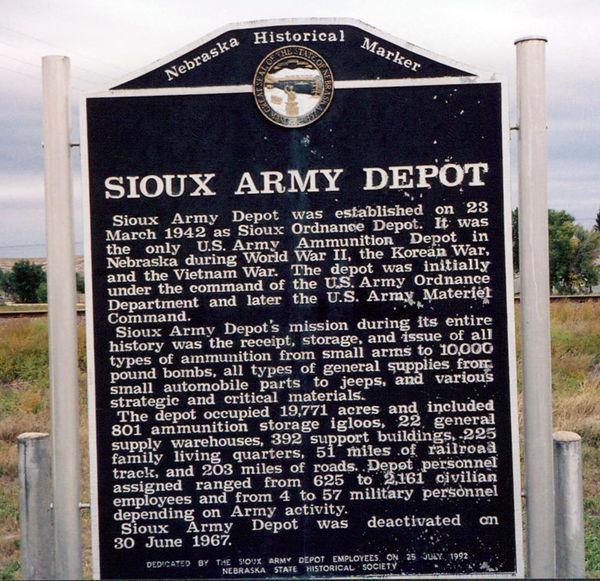 U.S Army 1942 - 1967
One of four munitions depots established in Nebraska during World War II, Sioux Army Depot provided a strategic national location for conventional munitions. Providing 801 ammunition storage igloos, the 19,771 acre complex remained an important depot into the Vietnam War.
World War II
In March 1942, construction began on the Sioux Ordnance Depot as a pre-Pearl Harbor effort to fund new ordnance facilities throughout the United States. Because of it's location on the Union-Pacific Railroad and the Lincoln Highway, the depot located near Sidney, Nebraska provided an ultimate location for security but also ease of transport. The depot's role during the war was for the "receipt, storage and issue of US Army ammunition, components and general supplies". Stores ranged munitions to other supplies within 801 ammunition igloos, 392 support buildings, 225 living units and a grass airfield. At peak, 2,161 employees worked on the complex, producing a massive strain on living quarters in Sidney, Nebraska.
Post-War
After World War II, the depot began accepting excess munitions. Interestingly in 1957, Sidney was considered a major nuclear target by the Soviets. By 1961, shipments of outgoing munitions ended, however the area gained new focus with the deployment of Minuteman missiles. A few launch facilities were located in the Sioux Ordnance Depot grounds.
Vietnam War
By 1967, the depot has lost its strategic importance. The depot was decommissioned on June 30, 1967. After this point, Western Nebraska Community College took over some facilities while the US Air Force retained its Minuteman areas. Other parts came under private control, as area farmers regained former land and utilized ammunition bunkers as grain storage.
Present Day
In 2020, the bunkers remain, although in poor condition. Once a strategic crossroads for a global war, Sioux Army Depot faded in importance by the Vietnam War.